If you're like most dog owners, you love spoiling your pup with delicious treats.
But not all treats are created equal – some are better for your dog's health than others. How do you know which ones to buy? And how can you be sure that the ingredients in those treats are safe and healthy for your furry friend?
In this article, we'll tell you everything you need to know about choosing the best, healthiest dog treats for your pooch.
We'll also share a few of our favorite brands and products.
When it comes to dog treats, there are a few things you'll want to avoid. First, steer clear of anything that contains artificial flavors or preservatives. These ingredients can be harmful to your dog's health and may cause digestive problems. Second, avoid treats that contain fillers like cornmeal or wheat flour. These ingredients provide very little nutritional value and can actually make your dog's food allergies worse.
So what should you look for when choosing dog treats? First, make sure that the treats you select are made with high-quality ingredients. The best treats will be made with real meat, fruits, and vegetables – not fillers or artificial additives. Second, choose treats that are designed to meet your dog's specific nutritional needs. If your dog has food allergies, for example, you'll want to find treats that are made with hypoallergenic ingredients.
Finally, don't forget to check the labels on any treats you're considering. Make sure that the calories per serving are appropriate for your dog's size and activity level. And always consult with your veterinarian before giving your dog any new type of treat.
Now that you know a little bit more about choosing the best, healthiest dog treats, we want to share a few of our favorite brands and products.
For all-natural, grain-free treats that are perfect for dogs with allergies, we recommend AFreschi Turkey Tendon Dog Treats. Delicious single ingredient, high-protein, low-fat gourmet dog chew treat hand-made from US-sourced turkeys, slow roasted for maximum flavor, and proven to please the most finicky dog.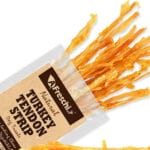 To keep those chompers clean and bright, we recommend Greenies Original Teenie Natural Dental Dog Treats. The chewy texture helps clean teeth, maintain healthy gums and freshen breath to make mouths happy day after day.
We also love Blue Buffalo Wilderness Trail Treats. These dog biscuits are made with an irresistible crunch to satisfy their wild side and help clean teeth.
And the winner for best treat for small dogs is Rachael Ray Nutrish Soup Bones.
Tell us your favorite! We'd love to hear from you!
Need pet insurance? Get coverage from Lemonade for as little as $10 per month!